It's Never Too Early To Shop For The Holidays – And What Greater Gift Than Books?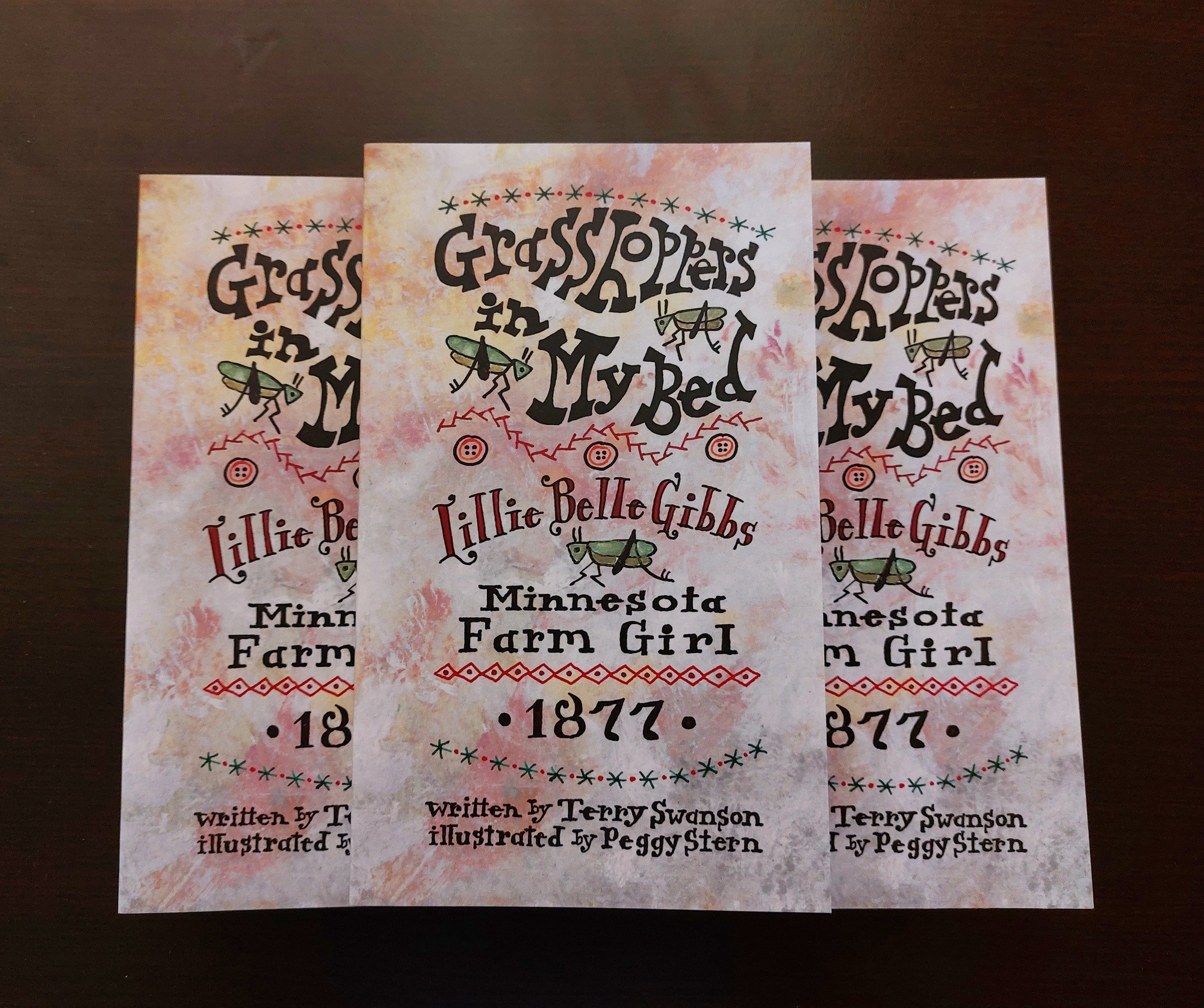 As the air gets chilly and the leaves begin to fall, it's only natural to sit by the fire with a cup of cocoa and begin writing your holiday gift lists. And for the young readers (and readers of all ages, really) may we suggest a perfect stocking stuffer?
Grasshoppers in My Bed: Lillie Belle Gibbs, Minnesota Farm Girl, 1877, written by Terry Swanson and illustrated by Peggy Stern, launched in May at the summer season opening of Gibbs Farm, but the idea for it started with a question: "What was it really like to live on a farm in the 1800s?"
That query, once posed by a camper at the historic Gibbs Farm site, is answered in the new book. The work of historical fiction captures a year in the life of youngest daughter Lillie Belle Gibbs. The Heman and Jane Gibbs family acquired the land north of St. Paul in 1849 and raised their children there. Heman was a market farmer, delivering fresh produce to accounts in the towns of St. Anthony, St. Paul, and Minneapolis. His wife, children, and seasonal field hands helped keep the business in operation for many years.
In 1949, a century after the farm's founding and thanks to the early efforts of local citizens and Gibbs family members, the then one-hundred-year-old property was saved from impending demolition. Soon after, staff with the newly created Ramsey County Historical Society set to work to preserve, study, and document the Gibbs family history so future questions like the one posed by the young camper could be answered.
Author Swanson worked as the site manager at Gibbs Farm for ten seasons. She kept thinking about the camper's question. After retiring, Swanson wondered if there was enough primary source material to tell Lillie's story. The RCHS archives contain photographs, maps, programs, a personal Bible, Lillie's dictionary, and a few of her school notebooks full of essays, spelling words, and penmanship assignments, along with historical accounts from Lillie's brother and her father's accounting books. "As far as we know, Lillie didn't leave a diary, per se," says Swanson, "Yet, there was enough historical evidence to establish an accurate imagining of the daily happenings at the farm when Lillie was eleven. A diary genre seemed the best way to answer the questions about day-to-day living at the site."
Because Lillie loved to sketch, Swanson felt it important to incorporate illustrations into the book. She enlisted local artist Peggy Stern to be the illustrator. Not only did Stern sketch and paint over 200 individual images for the project, she patiently and carefully hand-lettered title and chapter pages and designed the colorful, creative crazy quilt-themed cover.
The 176-page book with a map and 138 diary entries from December 1876 through December 1877 is written for eight-to-eleven-year olds in third to sixth grade, but it's really a multigenerational book. It encourages people of all ages to ask questions about their own families, providing opportunities to better understand their heritage by searching through ancestral documents. In addition, it's hoped the diary will encourage readers to record their experiences by writing accounts of daily life today. And if those writings are preserved, ten decades from now, researchers of the future could be discovering what life was like in the early years of the twenty-first century.
Are you intrigued? Ordering is easy, and think how great it will feel to share history with your favorite readers AND have some of your holiday shopping completed?   
Grasshoppers in My Bed: Lillie Belle Gibbs, Minnesota Farm Girl, 1877 is a softcover book that includes additional historical materials and suggested reading lists. Cost is $20; $18 for RCHS members.  It may be ordered at www.grasshoppersinmybed.com or at RCHS. Interested vendors and media may contact editor@rchs.com.