Plein Air Painting Workshop
July 27, 2019 @ 8:30 am

-

12:00 pm

$40.00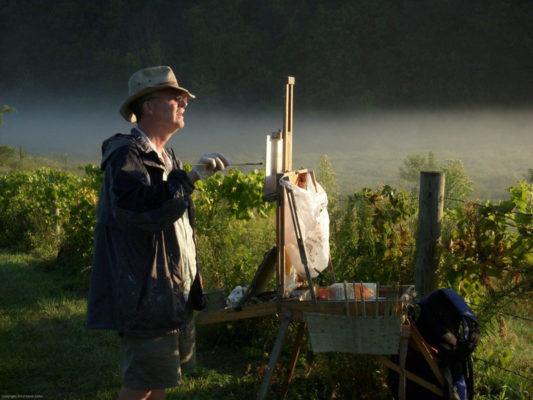 Plein Air Painting Workshop at Gibbs Farm
Come share artist Tom McGregor's passion for painting in oils on location.
Tom McGregor, award-winning plein air painter, will demonstrate tried and true plein air oil painting methods as well as give personalized instruction based on where you are as a painter. All levels welcome.
The workshops will be held on site at the beautiful Gibbs Farm. Restored prairie, gardens, historic farmhouse and barns, sod house, farm animals and Dakota tipi and bark lodge are all available for inspiration.
Participants who sign up for the July 20 session are also welcome to stay after the workshop and participate in the official Paint-Out at Gibbs Farm, held in conjunction with the Outdoor Painters of Minnesota.
Two sessions will be available, July 20 and July 27.
Participants may attend one or both sessions.
Each workshop session begins promptly at 8:30 am and lasts about 3 hours.
Cost per participant per session: $40.00 (no RCHS member discount on this workshop).
Participants need to bring their own supplies – see below for supply list or download List of Materials here.
Registration Form. Register online, or call the RCHS office at 651-222-0701.
Visit his website for more information and to see Tom's work. https://mcgregorart.com/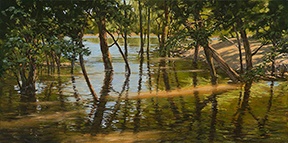 Tom McGregor, High Water
Plein Air and Studio Oil Painting
Recommended Materials List
Field Easel
Oil Paints:
( * Indicates the most important colors to have)
White* – Cremnitz or Titanium
Cadmium Yellow Light (or lemon yellow, or hansa yellow)
Cadmium Yellow*
Cadmium Orange
Cadmium Scarlet (or Cadmium Red Light)
Alizarin Crimson*
Manganese Blue or Cerulean Blue
Cobalt Blue
Ultramarine Blue*
Ivory Black
Burnt sienna (for tinting canvas)
Painting Medium:
Cold Pressed Linseed Oil & Gamsol (or odorless mineral spirits)
Brushes
Long Bristle Flats or Filberts (Two each, #2, #4, #6, #8, #10)
Bring 2 or 3 Panels:
Size: between 8×10 and 12×16
Panels should be tinted with a light wash of burnt sienna/Gamsol at least 48 hours
prior to the workshop.
Miscellaneous:
Palette Cups
Paper Towels
Garbage Bags
Palette Knives
Brush Washer containing Gamsol (or other odorless mineral spirit)