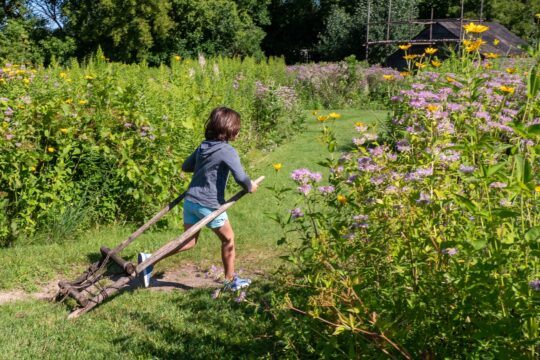 History Explorer Camps
Check back in early 2023 for next year's camp dates!
Journey through the past and present in our History Explorers Camps: Kids on the Farm, Dakota Camp, Nature Detectives, and Life of a Gibbs Girl.
These camps take place Tuesday-Thursday, 9am-1pm. Campers will bring a lunch each day. Grade Recommendation: K-3rd Completed.
Kids on the Farm – Grasshoppers in my Bed Edition
Travel back in time to the mid-1800s and live like early Minnesota farm kid, Lillie Gibbs!
We are celebrating Ramsey County Historical Society's upcoming publication, Grasshoppers in My Bed, Lillie Belle Gibbs, Minnesota Farm Girl 1877, by centering this popular camp around the year-in-the-life story of the Gibbs' youngest daughter, Lillie. Campers will go to school in a one-room schoolhouse, help with the weekly wash, run an errand to the local general store, make butter, and more!  Every morning starts with feeding the Gibbs Farm animals. Farm kids like Lillie had a lot of responsibility, but they also knew how to have fun!  Campers play marbles, horseshoes, learn about making (and taste) homemade butter. Campers will return to the 21st century with a new understanding of 19th century school, work, and play!
Follow RCHS and Gibbs Farm on social media to find out more details about this new book, release date, and related events.
Dakota Camp
Learn about Minnesota's first people, the Dakota, past & present, in this unique camp!
Developed with Dakota partners, including instructors from University of Minnesota's Dakota Language Program, this camp allows kids to explore 1830s seasonal life through the lens of Cloud Man's village, where a young Jane Gibbs spent many of her childhood years. Campers are introduced to the Dakota language and play games to learn names of colors and animals! Activities include practicing with bows & arrows, learning about the engineering involved with constructing a tipi, visiting a replica bark lodge, hearing stories, and sampling traditional Dakota inspired food on the last day!
Nature Detectives
Come explore the outdoors!
Campers will be nature detectives and use all their senses to make observations about the natural world.  We will search for clues about what creatures are living in the restored Gibbs prairie, eavesdrop on songbirds, and observe the behaviors of the farm animals.  Get excited for animal tracks activities, art projects, scavenger hunts, and more!
Life of a Gibbs Girl
What would it be like to be a girl in 19th century Minnesota?
Experience the differences and similarities between life today and life as a Pioneer, Dakota, and Victorian girl! Costumed staff lead campers through the historic Gibbs farmhouse, explore the restored prairie, and host a Victorian tea party!  Each day includes history inspired crafts, activities outside, and time with friends.
Common Camp Questions Answered
Everything from registration questions to what your child should bring.