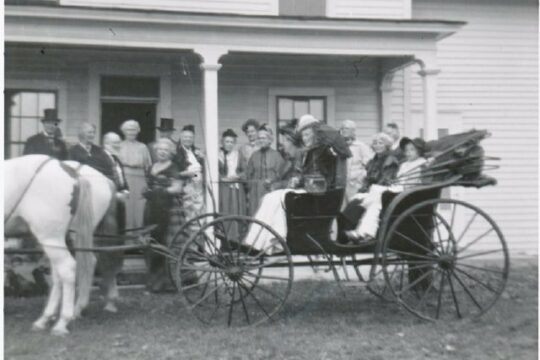 Ramsey County Historical Society's Gibbs Farm has been a regional leader in education for the past 68 years. Now considered one of the Twin Cities' premiere historic sites, Gibbs Farm typically serves more than 20,500 students and educators each year. Gibbs Farm opened as a museum in 1954, just five years after a group of local citizens moved to acquire and preserve the Heman and Jane Gibbs farm in Falcon Heights. It was included on the National Register of Historic Places in 1974 for its agricultural significance as well for the Gibbs family's unique relationship with the Dakota.
Jane first visited the land now known as Minnesota as a child in 1835, living with her missionary family among the Dakota of Ḣeyate Otuŋwe (Cloud Man's Village). The friendships she built with this community endured long after her family left the village and traveled back east. In 1849, Jane and her husband decided to settle in the newly established Minnesota Territory. Shortly thereafter, the couple encountered Dakota crossing their land. It was discovered that they were Jane's friends from Cloud Man's Village. For years afterward, the Dakota visited the Gibbs family each fall, setting up camp at the farm before heading north to harvest wild rice.
This amicable relationship, a positive example of cross-cultural cooperation, adds a special dimension to Gibbs Farm programming. While most farm-based field trips are grounded in 19th century pioneer life and agriculture, Gibbs Farm programming centers on women's history and Dakota culture, building on the historic connections between Jane Gibbs and the people of Cloud Man's Village. RCHS worked with Dakota Elders and Culture Bearers to develop Gibbs Farm's Dakota program and it continues to be guided by Dakota advisors today.
In addition to Gibbs Farm, RCHS also shares its mission through award-winning publications, including its quarterly magazine, Ramsey County History, and by providing access to millions of artifacts and archival documents through its public Research Center. RCHS also hosts public presentations, workshops, guided tours, and exhibitions throughout the County, featuring diverse topics driven by community interest.
A quick Gibbs Farm Historic Site Property Timeline:
1958     Red Barn built to house farm implements acquired by RCHS.
1966     Stoen School is moved to Gibbs site from Milan, Minnesota.
1975     Gibbs Farm is listed on the National Register of Historic Places.
1995     The sod house site is excavated.
1997     Red Barn moved to current location.
2015     Gibbs Museum changes name to Gibbs Farm.
2020     Red Barn renovation is completed.
More about RCHS and Gibbs Farm
Steve Trimble
In Search of Ethel Stewart Author: Steven C. Trimble Ethel Hall Stewart (1879–1959) is considered the person most responsible for the founding of the Ramsey County Historical Society (RCHS). Steve Trimble wrote a biographical profile of Stewart that was published in the Fall 2012 issue. Here, he revisits Stewart's…
Steven C. Trimble
Hands-On Historian: Ethel Hall Stewart and Preserving the Gibbs Farm Author: Steven C. Trimble On an October day in 1954, the Gibbs Farm Museum opened to the public, thanks to the efforts of Ethel Hall Stewart. Stewart's love of history and belief in hands-on education was the impetus for…
Mollie Spillman
The RCHS Archives and Collections Since 1964 Author: Mollie Spillman Collections form the foundation of Ramsey County Historical Society's (RCHS) history and programs. When RCHS was organized in 1949 by Ethel Hall Stewart and others, it first acquired the Gibbs Farm Museum, which opened in 1954, and began to…