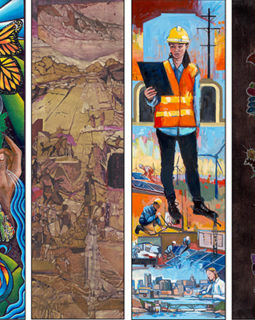 Year

2020

Creators

City of Saint Paul, Ramsey County, Ramsey County Historical Society

Topics
Council Chamber Artwork Presentation Event
Program Date: August 19, 2020
YouTube Video
Presentation of the artwork for the Ramsey County Courthouse/Saint Paul City Hall Council Chambers.
RCHS thanks the artists, the Art Selection Task Force, Ramsey County and the City of Saint Paul for assisting with this project.
Video produced by the City of Saint Paul Office of Technology & Communications.
For full artists' statements (English, Hmong, Somali and Spanish), artists bios, background info and more, see https://www.rchs.com/news/council-chamber-art-project/
Image: Collage of the four new art panels. Far left panel: CLUES collaborative art by artists Marina Castillo, Zamara Cuyun, Aaron Johnson-Ortiz, & Gustavo Lira. Second panel: Emily Donovan. Third panel: Adam Swanson. Fourth panel, far right: Leah Yellowbird.
Year

2020

Creators

City of Saint Paul, Ramsey County, Ramsey County Historical Society

Topics