Walk on the East Side: Pictures and Stories from Residents of St. Paul's East Side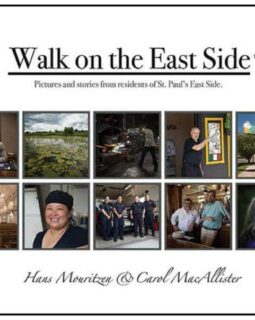 Year

2017

Creators

Authors: Hans Mouritzen and Carol MacAllister; Reviewer: John M. Lindley

Topics
Walk on the East Side: Pictures and Stories from Residents of St. Paul's East Side
Authors: Hans Mouritzen and Carol MacAllister
St. Paul: East Side Elders, 2017
28 pages; color photos; $20.00; Available from info@EastSideElders.org
Reviewed by John M. Lindley
Upon opening this slim, but colorful, little book is the mission statement for the East Side Elders: "Create a circle of care around the elders in Dayton's Bluff, Payne-Phelan and Conway-Battle Creek neighborhoods, empowering seniors to live safe and independent lives in their homes." This East Side nonprofit has produced a wonderful snapshot of their St. Paul community. Photographer Hans Mouritzen has shared superb photographs of the people, small businesses, churches, and places that comprise this rich patchwork of neighborhoods. Carol MacAllister has provided the carefully worded text that accompanies the images.
Together the book is a visual and verbal tribute to the multi-ethnic and multicultural diversity, spirit, and resilience of this small part of the larger fabric of the city. At the same time, the volume is also intended as a thoughtful tool for raising money through sales of the book for the programs of the East Side Elders. Unlike some treatments of a neighborhood in the midst of a large city that offer a slick or glib perspective, this book looks at the area with an eyes-wide-open approach that avoids sentimentality and sugar-coating of the problems and issues the community faces. What emerges in this combination of MacAllister's words and Mauritzen's pictures is the love that all the people who speak through these pages have for their community.
John M. Lindley is the former editor of Ramsey County History. He continues to write, edit, and travel in retirement.
Year

2017

Creators

Authors: Hans Mouritzen and Carol MacAllister; Reviewer: John M. Lindley

Topics