History Revealed: An Interrupted Childhood, Part One
March 2 @ 7:00 pm

-

8:30 pm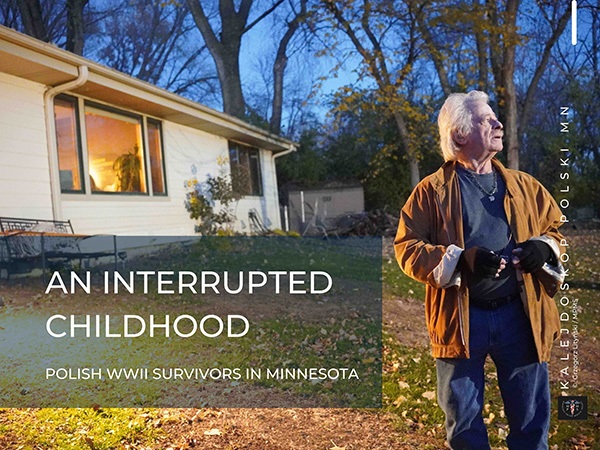 An Interrupted Childhood – Polish WWII Survivors in Minnesota, Part One
A Conversation with Survivors
History Revealed Series
Thursday, March 2, 2023, 7:00 pm
In partnership with the Minnesota Polish Medical Society.

In conjunction with a photographic exhibition in Landmark Center, March 5-April 30, 2023
Live presentation on Zoom
Register in advance for this meeting, register on Zoom here. After registering, you will receive a confirmation email containing information about joining the meeting. For questions, please email events@rchs.com
Three Polish survivors of WWII will share the stories of their experiences as refugees, and that of other Polish immigrants to Minnesota. In conjunction with the photo exhibition, "An Interrupted Childhood" shown at Landmark Center and at the Minnesota State Capitol, join us and learn the stories of Magdalena, Walter, and Anatol, histories that shed light on the forgotten children of WWII.
This is part one of a two part presentation, the second part will be on April 6, 2023, also on Zoom. Please join us for one or both parts of this very important program.
Additionally, please join the exhibition contributors for a concert by violinist Adam Han-Gorski at the Exhibition Opening on Sunday, March 5, 2023, 2:00-4:00 at Landmark Center. For more information on the opening and this concert, please see the Landmark Center calendar at https://www.landmarkcenter.org/events/.
WWII shaped the course of Polish history in the 20th century and redefined its borders. It started in September 1939 when Nazi Germany and the Soviet Union jointly invaded Poland. The two invaders effectively dismembered the country. Poland suffered immense losses; nearly six million Polish citizens, including three million Polish Jews, were killed.
The stories of WWII survivors Adam, Anatol, Leonard, Magdalena, Maria, Walter, and Wiktor are part of the MPMS project An Interrupted Childhood: Polish WWII Survivors in Minnesota. During this phase of the Kalejdoskop Polski MN project, we collected the oral histories and photographs of Polish Minnesotans who have been through the horrors of the war: a forced laborer in the Third Reich, deportees to Siberia, a Polish Army Cadet, a Volhynia Massacre survivor, and a Holocaust survivor. These stories represent different fates of Poles during WWII and its aftermath. The collected narratives teach us lessons of suffering, survival, resilience, and gratitude are truly humbling and inspiring.
This two-part program and exhibition represents part two of the Kalejdoskop Polski MN project initiated in 2020 by the Minnesota Polish Medical Society that aims to document the stories of contemporary Polish immigrants and refugees who settled in Minnesota. The lead artist for Kalejdoskop Polski MN is Grzegorz Litynski, a professional documentary photographer (www.litynski.com). This body of work forms a traveling photographic exhibition. Katarzyna Litak curates the exhibition.
Magdalena was born in Kraków, Poland in 1925. During WWII, Magdalena lived in Kraków until she was arrested in a street roundup on the way home from school in 1941. Magdalena was 16 when she was sent to Germany as a forced laborer. In 1945, after the war, she met Eugeniusz (Eugene) Świderski, a Polish officer who spent five years in a POW camp in Germany. They married and lived in France. In the 1950s, the family emigrated to the United States with their daughter Elizabeth. Elizabeth Seidner, Magdalena's daughter, was the history witness.
Anatol was born in 1934 in Tiutków, Poland (now Ukraine). In June 1940, at age five, he was deported with his mother and sister by the Soviet Security forces (NKVD) to a work camp in Siberia. He was released with his mother from the camp in the winter of 1941/42. On their way to the Polish army formed under General Anders, Anatol separated from his mother and spent nine months in Soviet Russia alone. On the brink of death from starvation, his mother found him in a Polish orphanage in Iran. With Polish troops, he and his mother went from Iran to Lebanon before they immigrated to the United States after the war.
Walter was born in Burdykowszczyzna, Poland (now Belarus) in, in 1926. In September 1939, the Soviet Army invaded eastern Poland, and the brutal occupation began. In February 1940, Walter's family was sent by NKVD to a Soviet work camp near Arkhangelsk in the Arctic Circle. Two years later, Walter and his family were released from the work camp and journeyed to Uzbekistan to the Polish Army under General W. Anders. As a teenager, Walter completed military training for Young Soldiers in Egypt and participated in the legendary Monte Cassino battle in 1944. After the war, he lived in Great Britain and then emigrated to Minnesota in 1961.
Program Moderator, Exhibition Organizer & Curator
Katarzyna Litak, MD, is MPMS President, Kalejdoskop Polski, MN project manager, exhibition designer, and curator. She conducted oral interviews for the project. Originally from Poland, she continued medical training at the University of Minnesota. She is also a practicing physician.