History Revealed: Defying the Silence
November 30 @ 7:00 pm

-

8:30 pm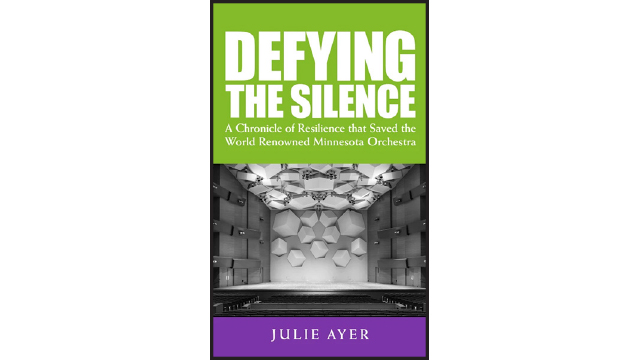 Defying the Silence: A Chronicle of Resilience that Saved the World-Renowned Minnesota Orchestra
Julie Ayer
History Revealed Series
Thursday, November 30, 2023, 7:00 pm
In partnership with the East Side Freedom Library & Roseville Library
Live presentation on Zoom
Register in advance for this meeting, register on Zoom here. After registering, you will receive a confirmation email containing information about joining the meeting. For questions, please email events@rchs.com
In this extraordinary example of how to unionize in the arts, Julie Ayer reveals how some of the world's finest musicians went from sitting in the Minnesota Orchestra to standing in the picket line . . . and how their city rallied around them.  The lockout that began on October 1, 2012, became the longest and most infamous work stoppage in American orchestral labor history.  What came to pass was a struggle for the very identity of an orchestra that had been at the heart of the Minnesota arts scene since it was founded in 1903. But the musicians didn't feel despair–they felt defiance. And Twin Cities music lovers were ready to defend the orchestra alongside them.
With thirty-six years as a violinist in the Minnesota Orchestra, Julie Ayer is the perfect voice to chronicle this powerful book about Minnesota history. She pairs firsthand accounts from personal connections with meticulous research and an intimate understanding of the institution itself.
In the face of adversity, the musicians of the Minnesota Orchestra did what they do best–they defied the silence and brought the music back.
Julie Ayer is a professional violinist, arts advocate, historian, and author. A passionate lifelong musician, she spent her thirty-six-year professional career in the Minnesota Orchestra, including their ground-breaking tour to Cuba in 2015. Julie also was a member of the Houston Symphony, Santa Fe Opera Orchestra, and Sydney Symphony Orchestra.
Throughout her career, Ayer was involved in many orchestra committees, including labor negotiations. Today, Ayer is a member of Classica Chamber Players and plays regularly in the Twin Cities. She has presented workshops and spoken to a variety of groups, including labor lawyers, music students, and colleagues. Julie has a master's degree in music and is a graduate of the Iowa Writers' Workshop. Her first book, More Than Meets the Ear: How Symphony Musicians Made Labor History, was reviewed in publications including the Boston Globe, Star Tribune, and International Musician.