History Revealed: Nature's Crossroads
June 22 @ 7:00 pm

-

8:30 pm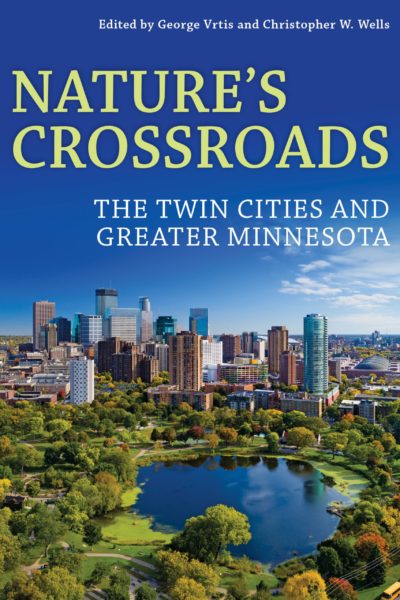 Nature's Crossroads: The Twin Cities and Greater Minnesota:
A Wide-Ranging Environmental and Historical Study of the Evolution of the Minneapolis–Saint Paul Area
With George Vrtis and Christopher W. Wells
History Revealed Series
Thursday, June 22, 2023
7:00 pm
In partnership with the East Side Freedom Library and the Roseville Library.
Live presentation on Zoom
Register in advance for this meeting: Zoom Registration Link
Registration is limited. You will receive a confirmation email after registering.
For questions, please email events@rchs.com
The industrial and commercial development of the Twin Cities transformed the landscape, dispossessed the original Native inhabitants, and had consequences which reached far beyond the geographic borders of the Metro Area.  Join Chris Wells and George Vrtis as they describe the environmental history of our region. 
Minnesota's Twin Cities have long been powerful engines of change. From their origins in the early nineteenth century, the Twin Cities helped drive the dispossession of the region's Native American peoples, turned their riverfronts into bustling industrial and commercial centers, spread streets and homes outward to the horizon, and reached well beyond their urban confines, setting in motion the environmental transformation of distant hinterlands. As these processes unfolded, residents inscribed their culture into the landscape, complete with all its tensions, disagreements, contradictions, prejudices, and social inequalities. These stories lie at the heart of Nature's Crossroads. The book features an interdisciplinary team of distinguished scholars who aim to open new conversations about the environmental history of the Twin Cities and Greater Minnesota.
About the Editors
George Vrtis is an environmental historian and professor of history and environmental studies at Carleton College. He is the coeditor of Mining North America: An Environmental History since 1522. His research interests include mining and resource use, urban environments, and protected areas and wilderness.
Christopher W. Wells is an environmental historian and professor of environmental studies at Macalester College. His is the author of Car Country: An Environmental History and Environmental Justice in Postwar America: A Documentary Reader. His research focuses on the ways that technology—and especially technological systems—have reshaped the American environment, mediating and structuring people's relationships with the natural world.
For more, see:
https://www.duluthnewstribune.com/sports/northland-outdoors/new-book-explores-minnesotas-environmental-history
https://minnesotareformer.com/2023/03/08/book-excerpt-twin-cities-grew-thanks-to-dakota-ojibwe-land-connections-to-national-markets/