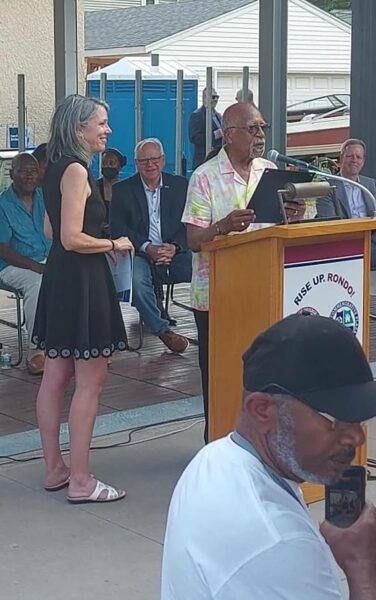 RCHS editor-in-chief Meredith Cummings receiving the award from Marvin Roger Anderson.
Dr. Marvin Dunn, the keynote speaker, is in the background on the left, Governor Walsh is center.
Image from the RCHS Collection.
As Minnesota celebrated its first official Juneteenth holiday on June 19, 2023, RCHS joined St. Paul's Rondo neighborhood in marking this special day of freedom, fortitude, and the strength of the human spirit. The event was organized by the Rondo Center of Diverse Expressions (RCODE).
RCHS is pleased to announce that our magazine—Ramsey County History—was one of this year's recipients of an RCODE Rondo Achievement Award at the celebration. This honor was given as recognition of Ramsey County History's commitment to highlighting African American histories and authors in issues past and present.
RCHS thanks RCODE for the honor. We are grateful for the opportunity to assist with the Rondo community's efforts to document the important contributions African Americans have made to St. Paul, Ramsey County, the state of Minnesota, and beyond. Over many years, RCHS and Ramsey County History have partnered with the community to publish poignant memoirs, carefully researched articles, and beautiful photographs focused on the Rondo neighborhood, specifically—with the goal of preserving, informing, and inspiring our community today—and tomorrow!
RCHS has published a number of carefully researched articles that document the history of the Rondo neighborhood and the contributions African Americans have made to Saint Paul, Ramsey County, and beyond. Three of those authors have won RCHS's Virginia B. Kunz Award for publishing excellence, including Frank M. White, Jeremiah E. Ellis, and Leetta M. Douglas.
To learn more about RCODE and its mission of connecting the memories of its elders with the imaginations of its youth, we encourage you to visit its website: https://rcodemn.org/
RCHS invites you to explore the rich history of the Rondo community in articles like Marion Jones Kennon's "Growing up at 1022 Rondo Avenue: 'We Learn What We Live and Live What We Learn'" available here.
To read additional articles, including Frank M. White's "From a Star on the Ball Diamond to a Star at the Minnesota State Capitol: Billy Williams," published in the most recent issue of Ramsey County History, just click on the Publishing tab at the top of our website!