Winter Carnival Ice Palaces 1887 & 1888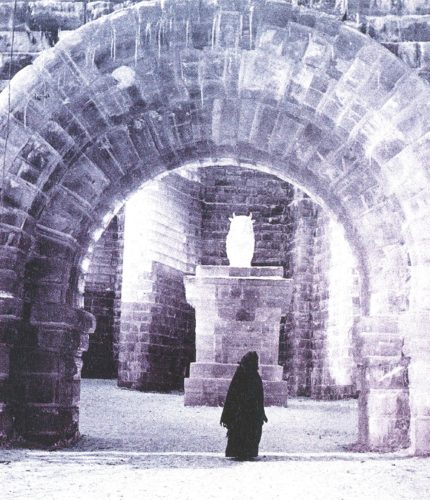 The 1887 Ice Palace
The St. Paul Ice Palace and Winter Carnival Association held a competition for the design of the ice palace that would again stand in the center of Central Park. The grand prize was $200, which was won by Charles Joy. The budget for the 1887 ice palace was $7,500.
Joy set out to test the structural limits and artistic ability of ice. In plan, the palace footprint was in the shape of a Roman cross, 194 feet by 217 feet. The main entrance to the palace was on the south side, through a semi-circular archway over 15 feet high, atop which sat a sculpture of Ice King Borealis flanked by reindeer. Through this entrance, one entered the central courtyard surrounded by buttressed walls nearly 25 feet tall, which also included a large sculpture of a bull. As visitors moved either to the left or right of the courtyard, they were led to other chambers and towers on the east, west, and north sides of the structure. The west entrance had both square and flat-topped round towers, and the east entrance had a steepled entrance gate.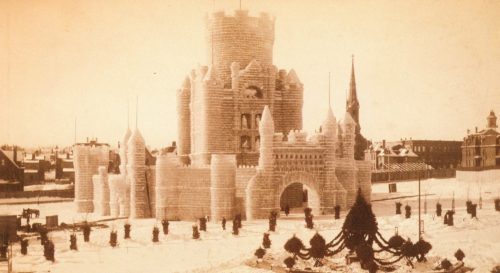 1888 Ice Palace
The 1888 ice palace was Charles Joy's final St. Paul contribution to ice architecture. Of the eight-acres of Carnival Park, the castle covered one acre of the site. The contractors, Rhéaume and St. Pierre, were experienced builders of railroad turn tables, water tanks, tank and engine houses, and trestles, which aided their success in building large structures of ice. Over 55,000 blocks of ice 22" x 32" x 18" were used, weighing a total of 16,000,000 pounds.
On January 21, 1888, four days before opening day, the thermometer reached -33 degrees, a week later -41, and a few days after that -34. Despite the temperature, visiting crowds streamed out of the passenger trains from across the country to see the palace.
For his second major ice palace, Joy found inspiration from more exotic visual sources. The official program described the medieval and Arabic-influenced design in detail.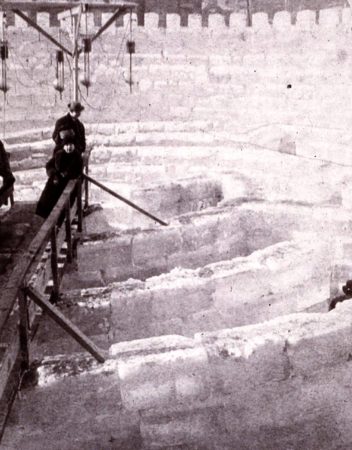 Unique to the 1888 palace was the inclusion of a labyrinth eighty feet in diameter. There were five separate paths that led to the center of the maze and a circular stairway that led up to a platform from which visitors observed participants seeking to solve the puzzle. St. Paul native F. Scott Fitzgerald used this ice palace and maze as the basis for his short story, "The Ice Palace."
Banner image: Visitors climbing on the 1917 Ice Palace.
Thank you to Bob Olson for providing the information for the Ice Palace history. For more, see the article by Bob Olson, in Ramsey County History magazine: "Another Siberia, Unfit for Human Habitation": St. Paul's Super Ice Palaces, 1886, 1887, 1888. Link to the article: Ramsey County History magazine, Volume 52, #4