RCHS/TPT Film – North Star: Civil War Stories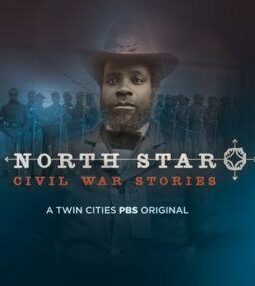 Year

2018

Creators

RCHS and TPT

Topics
Ramsey County Historical Society is proud to partner with TPT-Twin Cities PBS to produce a ground-breaking new documentary, North Star: Civil War Stories, which uncovers hidden details of African-American men from Minnesota involved in the Civil War. Using emerging research and scholarship, North Star: Civil War Stories looks at the lives and contributions of these men during and after the war.
Four stories bring to light the hidden histories of African American Minnesotans during and after the Civil War. These unsung heroes made unique contributions to the Union and their new state, but the details and records of their involvement still challenge historians.
Created for not only the broadcast viewing audience, but also with educators and classroom audiences in mind, this important documentary is available on DVD for use in schools, universities, and to the general public.
To watch online: https://www.tpt.org/north-star-civil-war-stories/
Teachers & Educators:
We are so excited to be able to offer free DVDs of "North Star: Civil War Stories" to teachers, schools, and educators! You would only have to pay for the shipping & handling costs of $5.00 to have it mailed to your school or library. Please email info@rchs.com or call 651-222-0701 for more information. Supplies are limited, first come, first served.
DVDs will be mailed soon after we receive them. One copy per teacher, please.
Sponsor a DVD!
And, you could sponsor a DVD for your child's school, library, or teacher! For more information on sponsoring a teacher or school, please call 651-22-0701 or email info@rchs.com
To order a DVD of North Star: Civil War Stories or other RCHS publications, see the Order Form here.
Year

2018

Creators

RCHS and TPT

Topics