Linked in Friendship, Connected in Service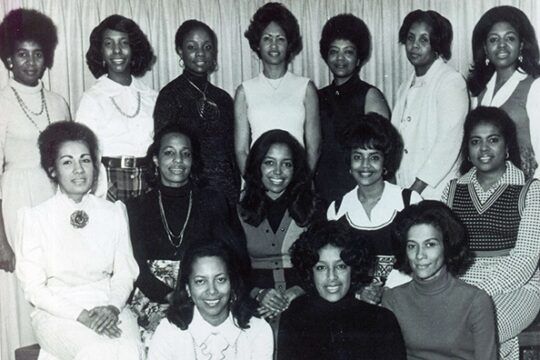 Online Exhibition
The Links, Incorporated is one of this nation's oldest and largest volunteer service organizations. These extraordinary women are committed to enriching, sustaining, and ensuring the cultural and economic survival of African Americans and other people of African ancestry.
Image: Charter members of Minneapolis/St. Paul (MN) Chapter of The Links, Incorporated, 1973.
Photo courtesy of Marion Kennon.
Back row, (l-r): Wilma Allison (Moore), Cynthia Tyson, Sandra McGee, Beverly Thompson, Jean Hudson, Shirley Kaiser, Marion Kennon.
Middle row, (l-r): LaRue McClung, Ida-Lorraine Wilderson, Diane Jones (Smith), Leanora Charles, Phyllis Ellis.
Front row, (l-r): Joyce Jackson, Wenda Moore, Rosemary Davis.
Visit the online exhibition!
Walk-Through of Installed Exhibit
Historian Mica L. Anders guides you through the exhibition in this short video by Lyon Motions.
Marion Jones Kennon
Fifty Years of Friendship Connected in Community Service: The Minneapolis-St. Paul (MN) Chapter of The Links, Incorporated Author: Marion Jones Kennon In 1972, sixteen women joined in friendship and service to charter the Minneapolis-St. Paul (MN) Chapter of The Links, Incorporated. Today, their chapter is one of 292 across most…