2023-2024 Editorial Board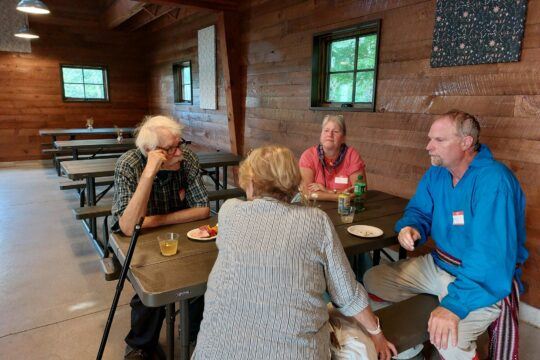 RCHS Editorial Board Members Meet with Distinguished Guests at Gibbs Farm
RCHS Editorial Board Members Steve Trimble and Mary Lethert Wingerd (left) visit with guests Patty and Terry Doerksen, newly arrived at Gibbs Farm after two months of travel from Winnipeg to St. Paul on the famous Red River Trail on July 16, 2022. Several members of the board and staff helped with welcoming logistics prior to the couple's arrival.
2023-2024 Editorial Board
The Ramsey County Historical Society (RCHS) Editorial Board is a diverse volunteer committee that meets every other month at the Landmark Center in St. Paul and online during winter months – January and March. The board includes retired history and writing professors; educators; amateur and professional researchers and historians; community leaders and activists; legal professionals; and experts in the history of local transportation, labor, business, politics, Jewish and African American culture, and prominent historical leaders and changemakers. It is currently chaired by Anne Field. At meetings, the board advises the editor, considers article proposals, and provides direction and contacts. Outside of meetings, members volunteer their time to research and write articles, book reviews, and Facebook blurbs; review and approve manuscripts; shoot and/or secure photographs for upcoming issues; participate in History Revealed programs, produce podcasts; serve as volunteer tour guides at historic St. Paul sites; share story ideas, tips, and contacts; and advocate for RCHS publications and the society as a whole. RCHS is grateful for the help and insight of this dedicated group of volunteers.
Anne Field, Chair
Tom Boyd
Anne Cowie
Meredith Cummings, Editor
John Diers
Kate Dietrick
Renoir Gaither
John Guthmann
Lisa Heinrich
Kyle Imdieke
Laurie M. Murphy
Paul Nelson
Richard H. Nicholson
Jay Pfaender
Dave Riehle
Chad P. Roberts, President
Linda Schloff
Mark Taylor
Steve Trimble
Mary Lethert Wingerd
Matt Wright