ERA Celebration & Commemorative Plaque Unveiling
June 15 @ 3:30 pm

-

5:30 pm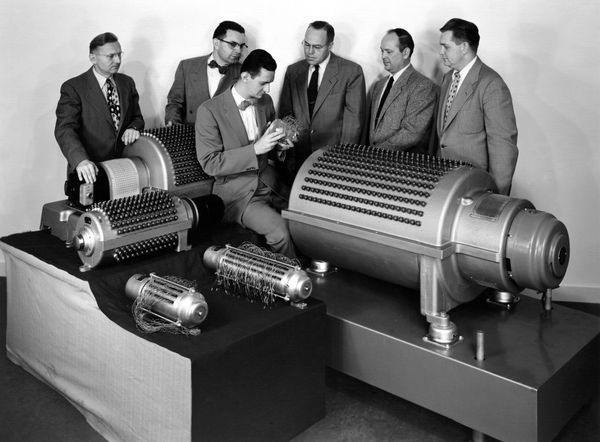 Celebration & Plaque Unveiling: Honoring WWII Codebreakers and the Founding of Engineering Research Associates
Thursday, June 15, 2023
3:30-5:30 pm
1902 Minnehaha Avenue West, St. Paul, MN 55104
Parking for the plaque unveiling is available at the site.
Featured speakers will include:
Lowell Benson, VIP Club
Norb Berg, Control Data
Don Hall, Historian
Dean Laurance, ERA/Univac
Chad Roberts, President & CEO of RCHS
John Rollwagen, CEO at Cray Research
Manny Villafana, Cardiac Pacemakers, etc.
The Ramsey County Historical Society is celebrating the enduring economic and technological activity unleashed in the Twin Cities by Engineering Research Associates (ERA) more than 75 years ago with the unveiling of a commemorative plaque at the company's original site.
In a salute to a remarkably powerful era of entrepreneurism, the Ramsey County Historical Society (RCHS) is celebrating the enduring economic and technological activity unleashed in the Twin Cities by Engineering Research Associates (ERA) more than 75 years ago. A commemorative plaque will be installed at the company's original site, 1902 Minnehaha Avenue West in St. Paul, at 3:30 pm on Thursday, June 15.
ERA was formed in 1946 by a group of U.S. Navy codebreakers who had been brought together to help the country and its allies win World War II. They were mathematicians, physicists, engineers and other specialists who interpreted German and Japanese electronic communications at a top-secret location in the Washington, D.C. area. When the war ended, the Secretary of the Navy wanted to keep them together because he saw the group as an important national resource. Getting funding proved difficult until John Parker, an Annapolis graduate working in corporate finance, raised $220,000.
Although a Washington resident, Parker was a director of St. Paul-based Northwest Airlines. He also owned a glider business at 1902 Minnehaha that was deactivated after the war. Parker moved the key employees from Washington to his empty factory in St. Paul. In doing so, he established the Twin Cities as one of the cradles of the computer industry, eventually making it the home for many thousands of jobs in more than 100 technology companies.
A lineage of corporate growth emerged in 1952, when Remington Rand bought and combined ERA and Eckert Mauchly Computer Corp. in Philadelphia to form Remington Rand UNIVAC (RRU). Four years later Sperry Corp. acquired Remington Rand and renamed the company as Sperry Rand. Its various computer activities were consolidated into the Univac Division. In 1986, Sperry and Burroughs Corp. merged to form Unisys, which then operated at 28 sites in the Twin Cities area.
William Norris was an early member of the codebreakers group and of ERA. In 1957, he left RRU to found Control Data Corp., which became one of the world's leading computer manufacturers and spawned dozens of spinoff companies. Seymour Cray, an employee of ERA and later Control Data, left Control Data in 1972 to form Cray Research, a company that dominated the supercomputer market well into the 1980s. The successes of these companies inspired local engineers to apply their technical expertise to medical products and create dozens of medical device companies.
By the 1980s, Control Data and Unisys each had more than 20,000 employees in Minnesota. Today, at least four Control Data descendants, all in Bloomington, remain in the region: Ceridian, SkyWater Technology, Polar Semiconductor and Seagate Technology Holdings. Unisys retains a service center in Eagan.
"The plaque memorializes the ERA story, serving as reminder of Minnesota's place as an early founder of the region's high-tech economy while also underscoring the importance of entrepreneurs to our community." said Chad Roberts, president and CEO of RCHS.
Among the speakers at the event will be John Rollwagen, who was CEO at Cray Research, and Manny Villafana, who left Medtronic to found Cardiac Pacemakers, St. Jude Medical and a string of other medical technology firms. "It's still true that individuals start companies from scratch and build them into big companies," Rollwagen said. "I still believe it can happen." Villafana has founded and taken public seven medical technology companies and is now on his eighth startup. "We're still the mecca of the med-tech industry," he said.
This is not the first time the Minnehaha Avenue site has earned a commemorative plaque. Lowell Benson has consistently kept the ERA story alive as the historian of the VIP Club, which has represented retirees from ERA and its successor companies since 1980. Benson said Sperry put up a plaque on the site in 1986, but that it disappeared in the 1990s.
The Ramsey County Historical Society would like to acknowledge the work of Benson and of the University of Minnesota's Charles Babbage Institute, which has built up an extensive collection of documents about the computer industry in Minnesota. Erwin Tomash, an engineer at ERA, founded the Institute and Dr. Arthur Norberg, who held the University's ERA Land Grant Chair for the History of Technology, was the Institute's first chair.
RCHS appreciates the generosity of Don Hall in making this event possible. Hall is the author of "Generation of Wealth: The rise of Control Data and how it inspired an era of innovation and growth in the Upper Midwest," published by the Nodin Press in 2014. RCHS also acknowledges the current owners of the building, and thanks them for their assistance for this project.
Image: Early ERA employees, c. 1955, l-r: Jack Hill, Dr. Arnold Cohen, Frank Mullaney, Bob Perkins, Arnie Hendrickson, Bill Keye. From the Charles Babbage Institute, University of Minnesota, Minneapolis