History Revealed: Invisible Warriors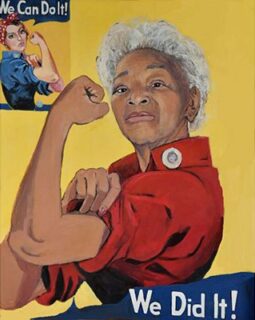 Year

2022

Creators

Jeremiah Ellis & Gregory Cooke

Topics
Invisible Warriors: African American Women in World War II
with Gregory S. Cooke and Jeremiah Ellis
History Revealed Series
Thursday, April 14, 2022
Video of the Discussion on YouTube
Screening of the film is not included in this video.
In partnership with the East Side Freedom Library and the Roseville Library
Invisible Warriors: African American Women in World War II, shares the untold story of 600,000 Black women – "Rosie the Riveters" – who worked in factories and government offices during WWII, including here at the Twin Cities Army Ammunition Plant (TCAAP). Prior to the war, nationally more than 80 percent of employed Black women were locked in life-stifling jobs as sharecroppers and domestics, according to Invisible Warriors creator and World War II historian, Gregory S. Cooke. After the Japanese attack on Pearl Harbor, many women quit their jobs as domestics.
Jeremiah Ellis will talk about some of the women who worked at TCAAP, and Greogory Cooke will share the making of his film, Invisible Warriors: African American Women in World War II in a brief discussion. The film Invisible Warriors shares the stories of women in the Philadelphia area who became "Black Rosies." One of the women featured in the film, Ruth Wilson, left her job as a domestic and received training at Bok Technical High School before working as a sheet metal specialist at the Philadelphia Navy Yard. Wilson helped build the aircraft carrier, USS Valley Forge. For Wilson, the job paid significantly more, but it was also about patriotism, helping her country win the war. "I did something to help the cause, and I was doing something to help the boys. It just made me feel special." "Wilson's resilience and determination typified the spirit of Black Rosies as they sought brighter futures for themselves and family members in a country dominated by systemic racism and gender discrimination," according to Cooke.
The Invisible Warriors: African American Women in World War II screening was sponsored by the Women's Foundation of Minnesota.
Making Minnesota: Natives, Settlers, Migrants, and Immigrants
The Ramsey County Historical Society, in partnership with the East Side Freedom Library, the Ramsey County Roseville Library and other community organizations,  presented a series of programs and events that will center on the experiences of indigenous people, African Americans, and immigrants in Ramsey County from the 1800s through the current day. programs which focus on the too often lost, erased, forgotten or misrepresented histories and stories of Ramsey County and the state of Minnesota. We expect these presentations to enrich and complicate our understanding of the development of the county and the state that we call home.
Past History Revealed Programs
More videos of some of our past History Revealed programs are available on the RCHS YouTube channel.
Ramsey County Historical Society Youtube Channel
To purchase titles from the History Revealed series, or other books of interest, see our partner, Subtext Books at https://subtextbooks.com/
Year

2022

Creators

Jeremiah Ellis & Gregory Cooke

Topics