Mairs & Power at 90: A Rich History, A Bright Future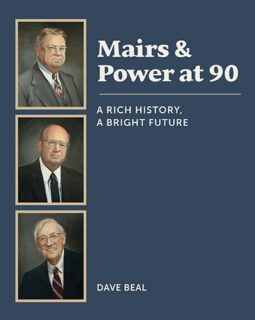 Year

2022

Creators

Dave Beal

Topics
Over the last nine decades, nearly all the firms in the tumultuous and unforgiving financial services industry have been rolled up, split up, spun out, or blown up. A shining exception: St. Paul's Mairs & Power, the oldest continuously independent investment management firm in Minnesota and one of relatively few such entities in the country to survive since the onset of the Great Depression. Author Dave Beal unpacks the improbable and colorful ascent of the firm in this Ramsey County Historical Society (RCHS) book: Mairs & Power at 90: A Rich History, A Bright Future.
This hardcover book, richly illustrated with more than 150 photos and graphics and fully indexed, can be ordered by clicking the online order forms here:
Member Pricing: $40, tax included with free shipping in Minnesota.
Non-Member Pricing: $45 plus $5 shipping & handling, tax included.
Year

2022

Creators

Dave Beal

Topics