Ramsey County History Winter 2023: Arrival of the Birds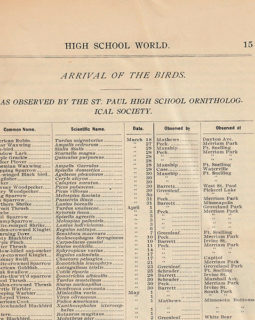 Year

2023

Volume

57

Issue

4

Creators

Dave Riehle

Topics
Volume 57, Number 4: Winter 2023
Arrival of the Birds:
The (Almost) Incredible 1897 Central High School Bird Observation
Author: Dave Riehle
In the late nineteenth century, it wasn't uncommon for boys (or amateur ornithology enthusiasts) to take down birds with slingshots or help themselves to unhatched eggs—many of which often ended up housed in glass-cased displays, forgotten and gathering dust over decades. Donning hats decked in showy, colorful bird feathers was "all the rage" for some women of the day, as well. A young teacher and nature lover—Dietrich Lange—decided the best way he, personally, could counter these practices that were decimating the bird population was through education. So, he started an Ornithological Society at Central High School. In 1897, seven students signed up. Over three months, they learned about the birds living in or traveling through Minnesota, their habitat, behaviors, and more. The youth observed the many species from a distance with pen and paper in hand—identifying them by their English and scientific names and listing the dates and locations each of the sixty-nine birds were first observed. The efforts provide a time capsule, of sorts, 126 years later. Author Dave Riehle spent months learning about this concerned teacher and his curious students. Riehle figured out how these high schoolers may have traveled to the birding sites, what they may have learned, and why this was important—then and now.
Supplements to the article
Bird Sightings Comparison
Ornithological & Nature Organizations
Featured image: Seven students from Central High School's Ornithological Society published observations in the 1897 High School World. In High School World, 1897, 15.
Year

2023

Volume

57

Issue

4

Creators

Dave Riehle

Topics