Preserving our past, informing our present, inspiring our future
Gibbs Farm
Unique, hands-on programs at the Gibbs Farm historic site
Publishing
Publishing quality books, magazine articles, podcasts, and special projects
Collections
Research Collections documenting the history of Ramsey County and Saint Paul
Head down to Gibbs Farm's cozy Red Barn to create ornaments and art out of pressed flowers! Each participant will arrange and paste a variety of flowers, herbs and foliage gathered at Gibbs this summer. We will have inspiration from around the world and information on Victorian floriography (language of…
We are excited to offer this event for the second time this winter! Here is another chance to partake in an evening of cozy, casual crafting in the renovated red barn. We will be working with dried oranges, wooden beads and winter greenery to create unique winter wall hangings. Sign…
Exhibition
March of the Governors
March 2023-Mid-June 2024
RCHS Gallery, Landmark Center First Floor
75 Fifth Street West, Saint Paul MN 55102
In conjunction with the monthly "March of the Governors" podcast series, an exhibition in the RCHS Gallery at Landmark Center provides brief snapshots of Minnesota's forty-one governors during their terms in office. Eight to ten panels at a time will be installed that will tell a brief snapshot of each governor's life. The panels will rotate every 3 months. There's far more to each of their stories, both positive and negative, we hope you will be inspired to learn more.
The third installation which is currently on view, includes:
Special thanks to each of the podcast presenters, host Paul Nelson and podcast producers Don Lee and Bob Ernt.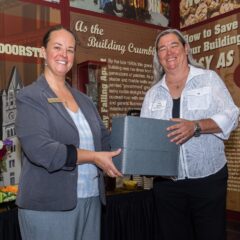 Virtually all of the 4.5 million documents, photographs, artifacts, and other items that make up our collections have been donated to RCHS. If you have pieces of Ramsey County history gathering dust in your basement, consider donating them to RCHS. Please contact Curator Mollie Spillman to donate artifacts, photographs or documents. RCHS Curator Mollie Spillman (L) donating an oral history collection to the University of Minnesota's Tretter Collection through Tretter Curator Lisa Vecoli (R).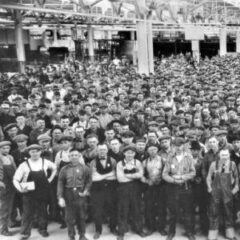 Volunteers in our Collections Department help digitize photographs and catalog new collections items.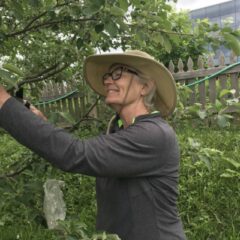 From helping care for our animals to gardening to building picnic tables and more, there is always plenty to do at Gibbs Farm!
Explore Your Gibbs Farm
Pathways to Dakota and Pioneer Life
Posted on November 16, 2023
Make the most of Give to the Max! Your donation will help impact more than 45,000 individuals in our community and help RCHS fulfill our mission of preserving the past, informing the present, and inspiring the future. And this year, a gift of $50 or more means that you receive…
Posted on November 13, 2023
45th Annual Landmark Center Old-Fashioned Holiday Bazaar Landmark Center 75 Fifth St. West, Saint Paul MN 55102 November 30, 2023: 10 am-7 pm December 1, 2023: 10 am-7 pm December 2, 2023: 10 am-5 pm Thursday & Friday Twilight Shopping Special! Enjoy a complimentary refreshment, courtesy…