History Revealed: Vikings in the Attic
October 20, 2022 @ 7:00 pm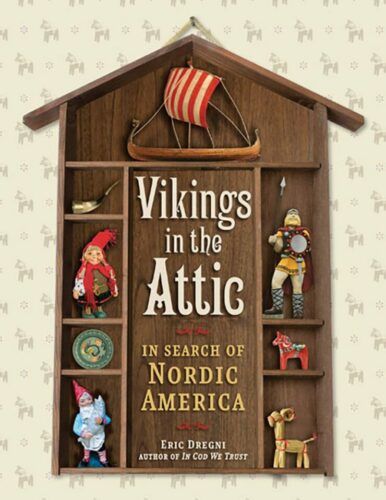 Vikings in the Attic: In Search of Nordic America
with Eric Dregni

History Revealed Series
Thursday, October 20, 2022, 7:00 pm
In partnership with the East Side Freedom Library & Roseville Library
Live presentation on Zoom
Register in advance for this meeting, register on Zoom here. After registering, you will receive a confirmation email containing information about joining the meeting.
For questions, please email events@rchs.com
Growing up with Swedish and Norwegian grandparents with a dash of Danish thrown in for balance, Eric Dregni thought Scandinavians were perfectly normal. Who doesn't enjoy a good, healthy salad (Jell-O packed with canned fruit, colored marshmallows, pretzels, and even olives) or perhaps some cod soaked in drain cleaner as the highlights of Christmas? In Vikings in the Attic, Dregni tracks down and explores the significant—and quite often bizarre—historic sites, tales, and traditions of Scandinavia's peculiar colony in the Midwest. It's a legacy of the unique—shots of turpentine for the common cold—but also one of poor immigrants living in sod houses while their children attend college, the birth of the co-op movement, and government agents spying on Scandinavian meetings hoping to nab a socialist or antiwar activist.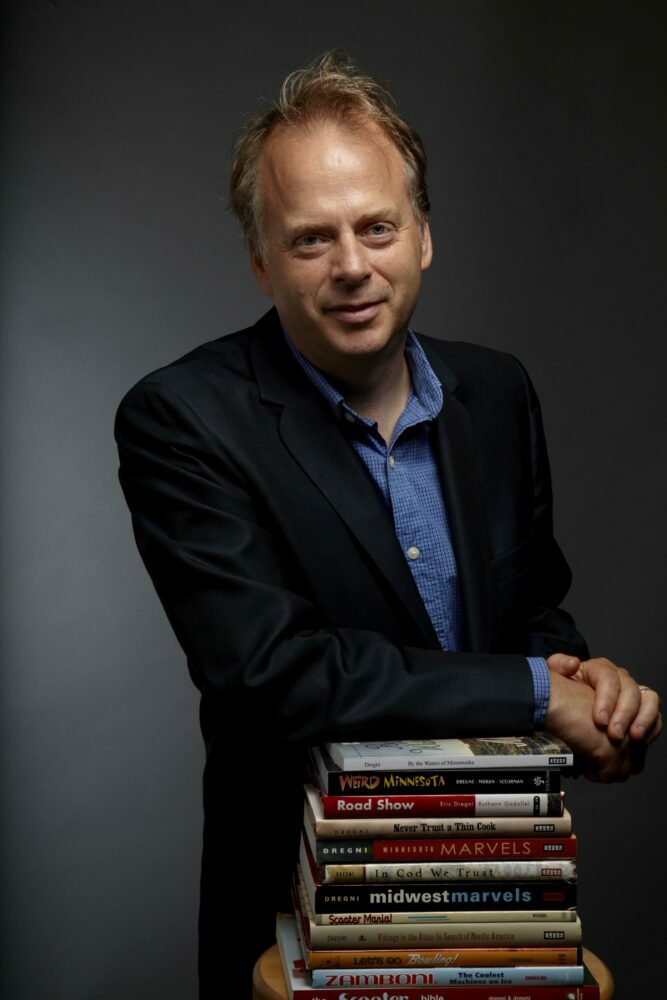 Eric Dregni is the author of 20 books including Vikings in the Attic, Weird Minnesota, Never Trust a Thin Cook, Let's Go Fishing!, For the Love of Cod, and Impossible Road Trip. He wrote about his 15-year experience running one of the Concordia Language Villages in You're Sending Me Where? Dispatches from Summer Camp. As a Fulbright fellow to Norway, he survived a dinner of rakfisk (fermented fish) thanks to 80-proof aquavit, took the "meat bus" to Sweden for cheap salami with a busload of knitting pensioners, and compiled the stories in In Cod We Trust: Living the Norwegian Dream.
He is Professor of English, Journalism, & Italian at Concordia St. Paul and, in the summer, dean of the Italian Concordia Language Village, Lago del Bosco. He lives in Minneapolis with his wife and three kids.
Making Minnesota: Natives, Settlers, Migrants, and Immigrants
The Ramsey County Historical Society, in partnership with the East Side Freedom Library, the Ramsey County Roseville Library and other community organizations, will present a series of programs and events during 2022 that will center on the experiences of indigenous people, African Americans, and immigrants in Ramsey County from the 1800s through the current day. programs which focus on the too often lost, erased, forgotten or misrepresented histories and stories of Ramsey County and the state of Minnesota. We expect these presentations to enrich and complicate our understanding of the development of the county and the state that we call home.