Winter Carnival Ice Palaces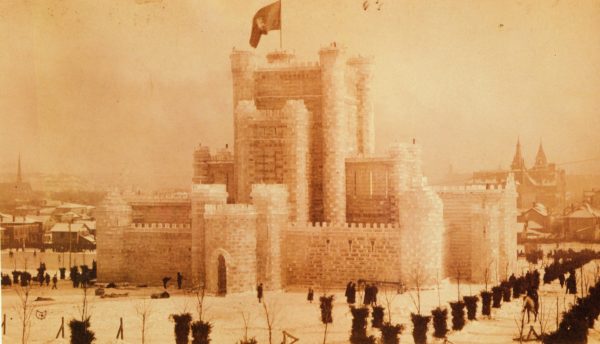 The 1886 Ice Palace
St. Paul was one of the fastest growing cities in North America in 1885. Newspapers and magazines advertised the virtues of agriculture and development to attract new settlement and business. When a New York correspondent wrote that St. Paul was, "another Siberia, unfit for human habitation," prominent St. Paul business owners and leaders met to respond and come up with an idea the attract visitors and new residents. At that meeting, one man stood out, Charles Joy.
Joy was an architect who designed and supervised construction of railroad passenger stations. He knew Montreal, Canada promoted their climate by hosting outdoor winter carnivals. Central to their carnivals was the construction of ice palaces, which drew thousands of tourists to the city in the coldest part of winter. In addition to St. Paul palaces, Charles Joy designed several homes along the Mississippi River near Battle Creek, and the Leadville, Colorado ice palace of 1896.
Thus the traditions of the Winter Carnival and the Ice Palaces was begun.
The St. Paul Ice Palace and Winter Carnival hired the Hutchison brothers of Montreal to design and build St. Paul's first ice palace. The sale of $10 stocks covered the $5210 building cost. Central Park was chosen as the palace location on an eight-acre site bounded on three sides by busy thoroughfares: 13th street on the south, Robert Street on the east, and Cedar Street on the west, making access easy.
Banner image: Visitors climbing on the 1917 Ice Palace.
Thank you to Bob Olson for providing the information for the Ice Palace history. For more, see the article by Bob Olson, in Ramsey County History magazine: "Another Siberia, Unfit for Human Habitation": St. Paul's Super Ice Palaces, 1886, 1887, 1888. Link to the article: Ramsey County History magazine, Volume 52, #4